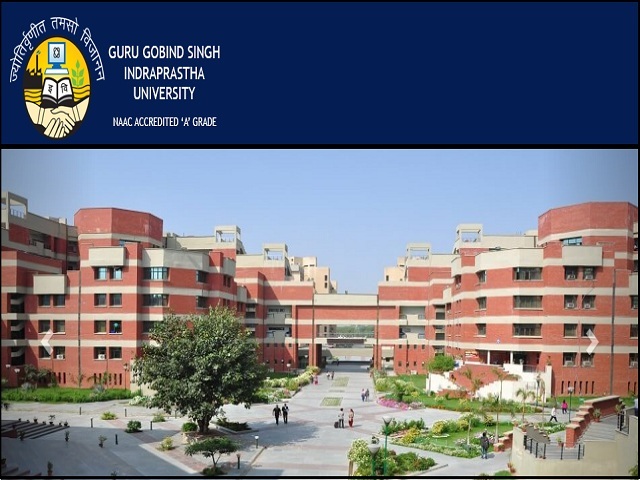 IPU CET (Indraprastha University Common Entrance Test) is a State university-level exam that is conducted yearly for admission into numerous UG and PG courses at Guru Gobind Singh Indraprastha University. The dates of IPU CET 2021 will be announced soon on the official website (ipu.ac.in). The application form of IPU CET 2021 will be released in the online method and applicants will have to submit the application form to take part in the admission procedure of IPU CET 2021. Before filling IPU CET 2021 application form, applicants need to confirm that they meet the eligibility criteria.
IPU CET 2021 Result Important Dates
Candidates should note that IPU CET 2021 going to be led by the conducting authority on different dates, for different courses. The below table shows the tentative schedule of the result declaration for various courses.
| | |
| --- | --- |
| Events | Dates |
| IPU CET Application form | To be announced |
| Last Date to Submit IPU CET Online Application Form | To be announced |
| IPU CET Exam 2021 | To be announced |
| IPU CET 2021 Admit Card | To be announced |
| IPU CET 2021 Result | To be announced |
How to View IPU CET 2021 Results
Given below are the steps for viewing IPU CET 2021 result
IPU CET 2021 results will be obtainable on the official website of GGSIPUas well. To view the IPU CET 2021 results, you should visit the official website of GGSIPU.
After visiting the GGS IPU website, click on the link 'IPU CET 2021 Results'.
A new page will be open where you will find result PDFs for LLB, B.Tech, BCA, MCA, M.Tech, etc.
Click on the PDF link relevant to you. The PDF will have the list of qualified applicants, their ranks, and other significant details.
Once you check the result, download the PDF for further use.
IPU CET 2021 Syllabus for UG Courses
The syllabi, as prescribed by GGS IP University for all the undergraduate courses (UG), have been mentioned in the table below:
Name of the Programme
Syllabus of the Entrance Test and Weightage
Bachelor of Technology (B.Tech) in Biotechnology
·        Physics (up to 12th Level)- 20%

·        Chemistry (up to 12th Level)- 20%

·        Mathematics (up to 12th Level)- 20%

·        Biology (Botany and Zoology) (up to 12th Level)- 20%

·        Biotechnology (upto 12th Level)- 40%

Bachelor of Technology (B.Tech) Lateral Entry (Diploma)
·        Applied Mechanics- 25%

·        Applied Mathematics- 25%

·        Computer Awareness and Physics/Chemistry Related Knowledge- 25%

·        Analytical and Logical Reasoning- 25%

Bachelor of Technology (B.Tech) Lateral Entry (B.Sc)
·        B.Sc Level Mathematics-40%

·        English (10+2 level)-20%

·        Analytical & Logical Reasoning-20%

·        Scientific Aptitude-20%

B.C.A
·        English Language & Comprehension (15%)

·        Mathematics – (30%)

·        Computer Awareness- (30%)

·        General Knowledge- IT and Science Related – (25%)

LL.B
All applicants are required to appear in the Common Law Admission Test –

Under Graduate, 2020 (CLAT – UG, 2020)

B.Ed
·        English Comprehension- 15%

·        Mental Ability and Reasoning – 40%

·        General Awareness – 25%

·        Aptitude for Teaching – 20%

Paramedical
·        Physics- (25%)

·        Chemistry – (25%)

·        Biology- (50%)

B.B.A
·        English Language & Comprehension – (25%)

·        General Awareness- (25%)Logical and Analytical Ability- (25%)

·        Aptitude relating to the field of Management and Communication

·        Skills- (25%)

BA (JMC)
·        English Language & Comprehension – (25%)

·        General Awareness- (25%)

·        Reasoning- (25%)

·        Media Aptitude- (25%)

B.H.M.C.T
·        English Language & Comprehension – (25%)

·        General Awareness- (20%)

·        Logical and Analytical Ability including Computer awareness-

·        (30%)

·        Knowledge of Accounts / Commerce & Science – (20%)

B.Com (Honours)

·        General English – (25%)

·        Logical Reasoning- (25%)

·        Data Interpretation – (35%)

·        General Awareness- (15%)

B.Ed (SPL)
·        English Comprehension- 15%

·        Mental Ability and Reasoning – 40%

·        General Awareness – 25%

·        Aptitude for Teaching – 20%

B.A in English
·        General English (50%)

·        Literary Aptitude (30%)

·        General Awareness (20%)

B.A. in Economics
·        General English (20%)

·        Economics and Statistics (40%)

·        Mathematics (40%)

B.Sc (Y)
·        Physics- 30 questions

·        Chemistry – 30 questions

·        Biology- 30 questions or biotechnology – 30 questions

·        Mathematics – 30 questions

·        General Awareness – 15 questions

·        English Language & Comprehension – 15 questions

B.Pharma
·        Physics- (33%) (Compulsory)

·        Chemistry – (33%) (Compulsory)

·        Biology or Maths – (34%) (1 of the 2)
IPU CET 2021 Syllabus for PG Courses
Check out the detailed subject-wise syllabus of GGS IPU CET 2021 for all the postgraduate programmes:
Name of the Programme
Syllabus of the Entrance Test and Weightage
M.Tech
As per the syllabus of GATE
M.Tech in Biotechnology
·        Biochemistry and Enzymology

·        Microbiology

·        Cell Biology

·        Molecular Biology and Genetics

·        Immunology

·        Bioinformatics

·        Recombinant DNA Technology

·        Plant and Animal Biotechnology

·        Bioprocess Engineering and Process Biotechnology

·        Biosafety, Bioethical and Intellectual Property Right Issues in Biotechnology

·        Techniques in Biotechnology

·        Environmental Biotechnology

·        Biostatistics

M.B.A
·        English Language & Comprehension (30%)

·        Numerical Ability (30%)

·        General Awareness (10%)

·        Reasoning ability including data interpretation (30%)

M.B.A (IT)
·        English Language & Comprehension

·        Numerical Ability & Mathematics

·        Logical Reasoning & Data interpretation

·        Computer Science

M.C.A
Refer to the Best Books section.

MA in Mass Communication {MA(MC)

·        Communication Skills- English (30%)

·        Current Affairs- (20%)

·        General Knowledge- (20%)

·        Mass Media (Print/ TV/ Radio/ Film/ New Media)- (30%)

M.P.T
·        Anatomy

·        Biomechanics

·        Exercise

·        Electrotherapy

·        Physiotherapy- Rehabilitation in Clinical Sciences

·        Musculoskeletal

·        Neurology

MPO
·        Anatomy

·        Biomechanics

·        Occupational Therapy in Mental Health

·        Occupational Therapy in Rehabilitation of Neurological Conditions.

·        Occupational Therapy in Physical Dysfunction

MSC (EM)
·        Chemistry- (25%)

·        Environment Science- (25%)

Either Botany and Zoology- (50%) Or Physics and Mathematics- (50%)

LL.M
All applicants are required to appear in the Common Law Admission Test – Post Graduate, 2020 (CLAT – PG, 2020) that is conducted by the Consortium of NLUs.
M.A in English
·        English Language & Comprehension (30%)

·        General Awareness & Culture (10%)

·        Literature (60%)

MA (CRIM)
·        General Knowledge

·        General Proficiency in English (Class 12th Standard)

·        Elementary knowledge of Social Science.

·        Understanding different faces of human behaviour

M.Sc (F)
Section- l (50 questions)

·        Logical Reasoning and Analytical Ability

·        General English

Section- II (100 questions)

(Five components of 20 questions each)

·        Physics

·        Chemistry

·        Biology (Zoology, Genetics, Biotech, Physical Anthropology)

·        Forensic Science

·        Mathematics of B.Sc. Level

M.Ed
·        Teaching Aptitude (40%)

·        General Awareness and Logical Reasoning (30%)

·        English / Communication skills (30%)

M.Sc (B&C)
·        Life Sciences (Taxonomy, morphology, anatomy, physiology, genetics, evolution, ecology, biogeography and economic uses of all the five kingdoms and virus) (50%)

·        Anthropology- Human culture and Society (10%)

·        Biotechnology (20%)

·        General Knowledge related to Environment issues (20%)

M.A in Economics
·        Statistical & Mathematical Methods and Introductory Econometrics (30%)

·        Economic Theory (Microeconomics, Macroeconomics, International Economics, Development Economics and Monetary Economics (70%)

MCA (LE)
·        C & Data Structures (25%)

·        Computer Organisation (25%)

·        Discrete Mathematics (25%)

·        Operating Systems (25%)
Important Links
GGS IPU CET BBA Counselling 2021 Round 2
IPU CET BBA Eligibility Criteria 2021