Many students come to Greater Noida to study. This has automatically led to a greater demand of living places in Greater Noida by both boys and girls. One of the best PG in Greater Noida is KCC and with all the necessary facilities. All the facilities of a PG are here. You will be astonished to see such superb facility being provided in this Hostel. Living here is just like a paradise.  Everything is so peaceful and beautiful here.
KCC is one of the best PG in greater noida for girls. Many girls of nearby colleges lives here.
Rooms in Girls PG in Greater Noida
The rooms here are spacious and well ventilated. A balcony is attached with all the rooms where you can sip your morning cup of Tea, coffee or milk.  Apart from this there are many other options available for rooms such as 3 sharing, 2 sharing and single occupancy. All rooms have attached restrooms in it with geysers, showers and other facilities. Every person living in the PG has separate bed with study table, chairs, cupboard, etc. There are options for Cooler rooms also.
HOUSEKEEPING
Housekeeping services in the PG are very good.  Quality housekeeping services are there.  Housekeeping task is performed by the people assigned for the job. Excellent quality cleaning products and cleaning equipments are used by the cleaning staff to do the work faster.
RECEPTION STAFF
The reception staff at the PG is very good. He keeps a check on every minute detail. He conducts proper check-in and check-out procedures, maintains each and every records, interacts with the guests, maintains accurate reservation information, maintains a customer contact list and assist with any other requests if any
PG Food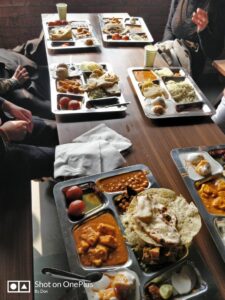 The PG food is very delicious and nutritious. 4 times meals are given to everyone with continous supply of milk, curd, soups and clean drinking water. Everything from South Indian, Gujrati thali, Punjabi food, sweets, curd, milk to Chinese, continental, etc are provided and with proper care. The kitchen staff takes full responsibility to organize the kitchen and does food prep to streamline cooking and meal presentation, including washing, peeling, and cutting fruits and vegetables. The kitchen staff are very hygienic and maintain proper care while preparing the food.
Dining area
The dining area is also beautifully decorated with intricate designs and wall hangings. Comfortable tables and chairs are placed here so that everyone enjoys their meal together. The surrounding of the dining area is peaceful and serene. There is a small space for washing too which is cleaned regularly..
SPORTS COMPLEX in Girls PG in Greater Noida
Games are a great way to keep stress away. It helps to keep our mind healthy and active. All these create happiness and reduce stress. Sports complex is provided here to all.
Indoor games available here are- Table tennis, Carom, Billiards and Snookers & Chess.
Apart from this outdoor games are also available here for ex- Basketball, volleyball, cricket, lawn tennis, football, etc. This helps us to keep ourselves fit.
SECURITY
The safety and security of girls in the PG is of utmost concern because many girls live here, therefore we have tight security here. Certain precautionary measures are taken for everyone to be safe. For this they have appointed lady guards, lady wardens and others to ensure safety. 24×7 patrolling of the premises is done. Guards are always there in the Hostels.
LAUNDRY
Here, laundry and dry cleaning service is equipped with imported machinery for every kind of clothes and fabrics and all these are absolutely free of cost. Your clothes will be properly washed, ironed and folded.
So overall, we can say that the PG in KCC is best for girls studying in the nearby area and is very peaceful.
Thank You !!!