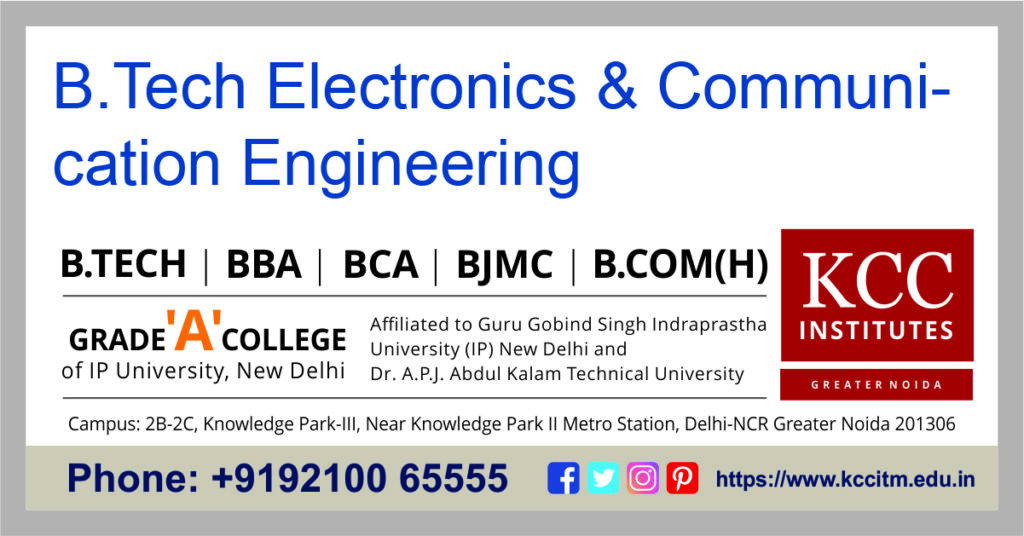 In Electronics & Communication Engineering you will study about electronic devices, circuits, communication equipments like transmitter, receiver, integrated circuits (IC). ECE also deals with basic electronics, analog and digital transmission & reception of data, voice and video (Example AM, FM, DTH, microprocessors, satellite communication, microwave engineering, antennae and wave progression. It aims to deepen the knowledge and skills of the students on the basic concepts and theories that will equip them in their professional work involving analysis, systems implementation, operation, production, and maintenance of the various applications in the field of Electronics and Communications Engineering.
A large group of engineering students are from Electronics and Communication Engineering (ECE). If you are also among them, then like the rest, different types of questions must have come in your mind. Like what we will have to do after studies, in which company we will get a job or how much will our salary be. The answers to all these questions will be found here today.
Jobs in Job Opportunities After ECE
ECE can be divided into two categories. First hardware and second software. After studying ECE, the options of both government and private jobs are opened. Salary can be 50 to 55 thousand per month in government job, but growth will be slow in this. Whereas in private, the salary may be in the beginning, but there are more chances of growth in it.
Job options in these fields after ECE
• Intel
• amd
• cisco
• ibm
• Samsung Electronics
• Sony
• toshiba
• Philips Semiconductors
• Nokia
• LG Electronics
• Bharat Heavy Electricals Limited (BHEL)
• Electronics Corporation of India Limited (ECIL)
• National Thermal Power Corporation (NTPC)
• Wipro
• HCL
• ISRO
• sintel
B. Tech Electronics & Communication Engineering Course Comparison
B.Tech. in Electronics and Communications Engineering (ECE)
B. Tech ECE (Electronics and Communications Engineering) is an undergrad course and duration of this college is 4 years of 8 semesters. The applicants who have cleared10+2 or any equivalent degree in any Science stream can approach for B. Tech ECE (Electronics and Communications Engineering). During this course, the students are being taught of curriculum of the specialized concept of Electronics and Communications Engineering with in-depth theoretical and practical knowledge of digital electronics and communication concepts. The different areas of concepts which are included in B. Tech ECE course are Electronics and Communication, Analog Transmission, Digital Communication, Analog Communication,Microprocessor,Satellite Communication, Wave Progression, Microwave Engineering, etc.
B. Tech Electronics and Communications Engineering Eligibility Criteria
The applicants who are desire to pursue their graduation in B. Tech Electronics and Communications Engineering must clear certain eligibility criteria in order totake admission in this undergrad program. Though the eligibility criteria for admission differs from college to college, but there is certain minimum eligibility criteria which one must fulfil for admission is given below-
The applicants must have passed intermediate or an equivalent degree from a recognized board.
The candidate must have opted for Mathematics and Physics as the major subjects in 10+2 along with one of the optional subjects as Chemistry/ Biology/ Biotechnology/ computers.
The candidate must have earned a minimum aggregate of 50% (45% for the reserved candidates) in 10+2.
The selection criteria of applicants for admission in B. Tech ECE program is done either through direct admission or through entrance exam such as JEE Mains, UPSEE, and many others. Different Universities conduct its own examinations. There are many institutions which takes admission in ECE program. The average course fee for B. Tech Electronics and Communications Engineering ranges somewhere between 60k to 1 lakh depending on the type of Institute.
Let us have a look on top Institution for Electronics and Communications Engineering-
IIT Madras – Indian Institute of Technology
SRM University Chennai – SRM Institute of Science and Technology
DSCE Bangalore – Dayananda Sagar College of Engineering
VIT Vellore – Vellore Institute of Technology
KCC Institute of Technology and Management, Greater Noida
LPU Jalandhar – Lovely Professional University
DTU Delhi – Delhi Technological University
JMI New Delhi – Jamia Millia Islamia and many more.
To take admission in B.Tech in Electronic and Communication Engineering course, students must have passed their 12th class examination PCM from any recognized educational board of the country. After this, if you want, you can give entrance exam for admission in government college. Direct admission is also available in private institutions on the basis of 12th pay merit.
Career in Electronics and Communication Engineering
Electronics and communication engineering is a huge sector. There are many career opportunities in this. At present, if you do electronics and communication engineering course from a good college, then you can easily get a job. As an Electronics and Communication Engineer, one can work in Aviation, Consumer Electronics, Electricity Plants, Manufacturing, Transportation, Communication, Computer Applications etc.
Apart from this, after doing Electronics and Communication Engineering course, students can find employment in many other manufacturing and service sector organizations like Broadcasting, Consulting, Data Communication, Entertainment, Research and Development, System Support etc.
FUTURE SCOPE IN ECE
o electronics engineer
o Field Test Engineer
o Network Planning Engineer
o Electronics and Communications Consultant
o Customer Support Engineer
o Electronics Technician
o Associate Firstline Technician
o Research and Development Software Engineer
o Service Engineer
o Senior Sales Manager
o Technical Director
Most Popular Sector for job in Electronics and Communication Engineering
o Indian Telephone Industry
o Semiconductor, Chip Design-Ind
o Indian Oil Corporation Limited
o Oil and Natural Gas Corporation Limited
o Civil Aviation Department
o Steel Authority of Indian Limited (SAIL)
o Power Sector
o Indian Railway
o Bharat Electronics Limited
o Indian Space Research Organization (ISRO)
o Software Industries
o Indian Engineering Service (IES)
public sector companies
• Delhi Metro Rail Corporation (DMRC)
• Defense Research and Development Organization (DRDO)
• Indian Space Research Organization (ISRO)
• private sector companies
• Accenture Solutions Pvt Ltd
• Cognizant Technology Solutions
• HCL Technologies
• Hewlett Packard
• Honeywell Automation India Limited
• Infosys Technologies Limited
• LG Electronics Inc.
• Tata Consultancy Services (TCS)
• Wipro Limited
• Siemens
• Tech Mahindra
• NVIDIA
ELIGIBILITY CRITERIA B.TECH ELECTRONICS & COMMUNICATION ENGINEERING
The full form of ECE is Electronic and Communication Engineering. It is a branch of engineering that deals with the research, design, development and testing of electronic components and engineering problems related to electronics, computers, telecommunication systems and related industries. ECE in India leads to B.Tech and M.Tech degrees respectively by various colleges at the undergraduate UG and postgraduate PG level.
ECE engineers are engaged in research, design and development and testing of electronic components used in various systems. This field is closely related to Computer Science and Engineering (CSE) and developments in CSE play an important role in the advancement of ECE. This may be the reason why ECE is always in high demand. All the electronics tools that make our life easy and enjoyable are developed by ECE engineers.
ECE mainly emphasizes on the following areas –
• Analog Transmission
• Satellite communication
• Solid-state devices
• Microwave engineering
• Basic electronics
• Analog integrated circuits\
• Antennae and wave progression
• Digital and analog communication
• Microprocessors and microcontrollers
Eligibility for ECE
The basic eligibility requirement for pursuing ECE at UG and PG level is as follows –
At the UG Level:
For this the candidate must have passed 10+2 examination from a recognized board with Physics, Chemistry and Mathematics as main subjects.
At the PG Level:
For this, the candidate must have a B.Tech degree in the same specialization with a pass percentage in the aggregate of the subjects studied at the UG level.
Job opportunities after doing ECE
After completing this degree one can easily find jobs in manufacturing industry, service organizations such as broadcasting, data communication, consulting, research and development, and systems support. In addition, ECE engineers can also find jobs in modern multimedia services firms that are involved in real-time transfer of information through video conferencing and Internet broadcasting.
• Service Engineer
• Software Analyst
• Technical Director
• Field Test Engineer
• Customer Support Engineer
• Electronics and Communication Consultant